10 tips for building a wooden deck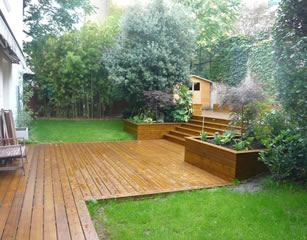 If you're trying to build your first patio, you've come to the right place. Building a patio is hard work, but it is possible with a minimum of carpentry skills. Before starting to build our patio, I searched the internet for advice and to make sure we were doing it right. I had a hard time finding articles that weren't "how-tos" but provided tips to make the process easier for us. So I decided, since I built from my own patio, to share some tips with you that we think would be useful to know in advance.
Tip # 1 for building a deck: Buy pressure-treated lumber.
First of all, you MUST purchase pressure treated lumber. Do not try to buy the standard 2 × 4, because you will end up with a patio that will rot in less than 5 years. If you don't want to purchase pressure-treated lumber, you can try investing in higher quality lumber like cedar for your deck construction. Most pressure treated wood no longer contains arsenic, making it safe and durable. While it is cheaper to buy unpressurized wood, it will prove to be less economical for you in the long run, as you will need to replace your deck completely or partially.
Wooden terraces are more and more popular for the natural and exotic atmosphere they create.

Tip # 2 for building a patio: Get the right kind of fasteners.
Some building codes require stainless steel or a specific type of galvanized screw when using pressure treated lumber. Certain types of metals can corrode wood and cause weakened joints. We started by putting in galvanized lag screws. When the inspector came to inspect the terrace, he had them replaced with stainless steel ones. What a waste of time and money! It is therefore essential to learn about the type of fixing to use before buying and building the terrace. Make the most of it. And without worrying about the maintenance of your beautiful patio floor.

Tip # 3 for building a terrace: MEASURE!
Measure the lumber at the store before bringing it home. Once again, we have learned this the hard way. We bought ten foot long 2×6 boards to use as beams and deck frame. As they were listed as ten feet long, we never bothered to measure them. What a big mistake! Each plank was actually 10 feet 1 inch long. After building the entire frame, the deck boards fell through. We had to completely dismantle everything just to shorten 2 boards ten feet long by one inch with a power saw.
Tip # 4 for building a patio: Use only what you need.
When building a patio, you will find that you usually buy a little extra to make sure you have enough materials. While you work, use only what you need. Keep unused pieces of wood and sleepers away from your saw table to avoid inadvertently picking up one. By cutting the rails of our terrace as we went along, we were able to recover a quantity worth 19 EUR
Tip # 5 for building a patio: Simplify.
When building a patio, be sure to keep it simple and design something within your skill level. If you doubt your patio building skills, you should go for a simple platform with a simple staircase. We had the idea of ​​building two stairs that meet in the middle and that would require cuts at a 45 degree angle. This resulted in frustration and dismantling the equivalent of 3 hours of work. We ended up going for the simpler one, but lost around $ 15 worth of lumber in the process.

Tip # 6 for building a patio: Get help!
Building a patio requires a lot of fixing and screwing. This is why you should ask for help for screwing planks and sleepers. Ask your friends or family members to devote some of their time and reward them with a nice lunch or dinner, their help will be of great help to you. Think about it, each plank should be screwed to each joist twice at least 8 places on a 10 x 12 deck. Multiply that by 26 planks and you'll get a feel for the job to be done! This brings me to point # 7.

Tip # 7 for building a patio: Get several drills.
Not only will you need a lot of help, but you'll also need a lot of drills. If everyone has their own drill (with the necessary heads), the work will go much faster. When building your patio, you may find that the wood is a bit soft if it has not been kiln dried. We have found that it is easier to work on wood with cordless drills than with electric drills. Electric drills are very powerful and could split wood.

Deck Building Tip # 8: Check Local Codes.
Do you need a building permit to build a patio in your area? Most cities require it. You should contact your town hall's inspection service to find out what to do. Not following local codes can be very costly. Local codes can be very specific about the dimensions of the beams you are using, as well as the types of fasteners. Don't forget to educate yourself about it, you don't need to redo the work already done.
Tip # 9 for building a patio: Remember, bark side up.
When installing the boards for your patio, try to remember the phrase "bark side up". For each plank, you should orient it so that the growth rings are thinning up. This will prevent the wood from curving into channels and will also allow water to drain rather than stagnate in the hollow of the board.
Tip # 10 for building a patio: Protect your patio.
Now that you've done all that work and spent all that time building a deck, you should protect it. This is the main thing that will prevent rotting of the woods. There are several ways to protect it, but I would recommend finishing your patio with a water repellant preservative (WRP). You can buy these tinted or transparent WRPs. You can find a lot of information on the web about this, but also in your local DIY store. Most importantly, never paint your patio with a solid paint finish. This paint will crack and peel and be a real maintenance nightmare.
These tips should help you avoid a few headaches when building a patio. It is important to educate yourself on deck construction before you tackle it to have a sturdy and beautiful deck for years to come.