Simple steps for a dreamy modern bedroom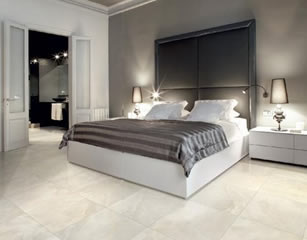 You could say that modern design includes many different embodiments which are rather difficult to define. In layman's parlance, modern interior design style refers to the simple reflection of modern art that is infused into home interiors. There are various features and central themes in modern design that make it what it is.
There are a few elements in modern design, without which it will lose its meaning.
They are as follows –
Straight and clean lines
Most designs, whether it is furniture, the shape of the room or decorative accessories; they include clean, straight lines without additional details.
Use of metal
Stainless steel and chrome are a large part of the materials used in modern decor.
Minimalism
Being an integral part of modern design, it is nourished by the notion of minimalism which is based on the principle "less is more".
Bold contrasting colors
Most often, bold primary colors are used as accents which help break up the monotony among all the neutrals and also create a focal point in the space.
Now that we have a quick idea of ​​what modern design is, let's explore to find out how, in just five steps, you can create a dreamy modern bedroom!
1.neutral colors
Of course, you can use bold accents as mentioned above to add a pop of color to your bedroom, but the color theme you would like to have in your bedrooms should revolve around a neutral palette. Because one of the strongest tenets of modern design involves minimalism, neutral colors for the bedroom will work in favor of modern-style decor. Going white with walls can be a bit blinding, so go for eggshell white, ivory white, beige, or cream colors in your bedroom. As for the bedding frame, then go for a soft colored wooden frame with light gray or white blankets and duvet covers.
2.bed
Because modern style design subscribes to clean, straight lines, you can fit it into your bedroom just by purchasing a bed. Buy a bed with a low height from the floor, instead of choosing a wooden bed, go for a bed with a metal frame to give your bedroom a modern and classic look. When choosing bed covers for your mattress, stick to solid colors (bold works, too) and avoid anything that has an intricate or intricately detailed pattern, as this moves away from modernism when it comes to style. interior decoration. Big, bold designs work just as well instead.
3.windows
The modern interior design style is focused on minimalism and the large spaces decorate little. For your bedroom windows, you will usually want to opt for large framed windows, patio doors, or large sliding glass windows surrounded by a metal frame. Large windows will not only make your room look grand, but also allow plenty of fresh air circulation. So, we say, for a dream night after a long day at work, if you want to avoid stress, go for large windows where you can sit, read a book, have a cup of joe, and relax. This is one of the bedroom design ideas that you can never go wrong with.
4.living area
If you have a big enough bedroom with a little headroom, convert it to a shy sitting area, a cozy corner where you can just relax, spend time watching movies, reading, having snacks and hanging out. time with your friends and family. The seating you choose for this area is crucial, as you would want to go for something angular, not very flowery when it comes to design and something that goes with the modern feel of the bedroom. With all of these things in mind, you can buy a sofa with straight and clean lines that can be placed in this space of the room, maybe even add a small coffee table next to it that can hold flowers, books. and some knickknacks. It can be your "me-time" space.
5. Show them off!
Buy a metal clothes rack or shelf and hang up some of your favorite pieces. Display clothes that will go with the aesthetic of the room, or those that are not only dear to you, but also go well with the decor style of the modern bedroom. Displaying your clothes will make the coat rack look like an accessory in your bedroom and give it a boujee look.
You don't need to sign elaborate checks for the interior design solutions provider when you have us. Make the above changes in your bedroom for a dreamy luxurious space you've always dreamed of!