Heating and cooking at the same time: discover the wood-burning stove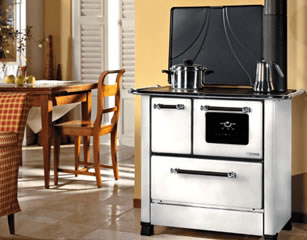 Do you remember the wood stove of your grandparents or great-grandparents, if you knew them? Good news for all the nostalgic (but not only), the wood-burning stove is back on the front of the stage. And for good reason: it allows you to heat your interior while cooking … all with the same source of energy! At a time when household budgets are shrinking while sustainable development matters more and more, the wood-burning stove is the perfect solution to reconcile authenticity, warmth, taste buds… and savings.
What is a wood stove?
Before going into details, let's go back to what exactly a wood-burning stove is. Formerly reserved for cooking food, it has become more and more used as an auxiliary heater par excellence for the room where it is installed. This is a device (more or less large depending on the model) made up of an oven and a hob.
Choose your wood stove
Today, there are many models of wood-burning stoves, including very high-end ones. In any case, there is a wide choice of oven equipment, since you can choose from different types of oven (cleaning option, type of cooking, etc.). You can also decide to use a wood-burning stove with the option of an electric oven, fan-assisted oven, stainless steel or another material …
In all cases, you will have access to an oven cooking mode and an ash drawer. It is possible to opt for a non-heating wood stove, but this reduces the possibilities of cooking and heating at the same time.
The choice of plates often relates to the material. Depending on the model chosen, you can have a cast iron plate or several cast iron and stainless steel plates.
Cooking and heating with the same installation?
Eh yes ! As its name suggests, the cooker makes it possible to prepare good little dishes … as much to say that the taste of a pot-au-feu that has cooked slowly on a stove for hours is indescribable … and while a dish baked on top, another can be put in the oven. During this time, the heat given off by the fuels which maintain your cooking (s) heats the room where your stove is installed.
The result ? An additional heating solution that allows you to cook several dishes at the same time, all with good cooking smells and the same source of energy.
Choosing the right firewood
Like any firewood, you will have the choice between "hard" (therefore dense) hardwoods such as oak, beech or walnut, or "coniferous" such as spruce, pine, poplar…. Soft woods burn faster, so choose denser woods for cooking or a longer heating time, especially as they give off more heat. In general, avoid at all costs using fir wood, which may burst once the fire is lit.
If you have enough space in your home to accommodate a wood-burning stove, then this is a great solution!