10 tips from interior designers to get a beautiful Moroccan decoration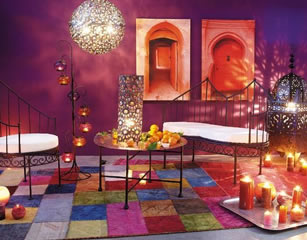 The Moroccan decoration is luxurious, exotic and allows to add a unique character to each home. Moroccan decoration, furniture and interior design can make your living room a fabulous and attractive living space.
Here are ten tips from decorators that will allow you to obtain a better decoration for a very beautiful Moroccan bedroom:
1. Moroccan interior design is known for its rich and diverse colors. Use vibrant colors and colorful fabrics to create a welcoming, sensual and luxurious ambience.
2. Don't forget the vibrant patterns and decors to give a lively look to your Moroccan bedroom decor, also add striped cushions, Moroccan poufs and side tables.
3. When it comes to decorating the Moroccan living room, you should not forget about the carved wood, high ceilings, mosaic and patterned window frames. Doors are also very important.
4. When decorating your Moroccan living room you must pay particular attention to the lighting. The pendant lamp with Moroccan Design is an essential element when it comes to lighting. The design of the Moroccan style pendant light includes hanging lanterns which are usually made from metals like brass and copper. The pendant lighting in colored glass or carved wood is also very common.
5. The design of pendant lights in Morocco is not limited to lights. Overhead Awnings that slide to cover seating, lying or dining areas are not uncommon. The design of the pendant light can also be done with mosquito nets above the beds.
6. The use of decorative mirrors in Morocco should not be overlooked. Decorating with a mirror helps to illuminate better by reflecting the light and thus making the living room decoration more ambient.
7. You can use decorative mirror with Moroccan style wrought iron or deeply carved wood to get better decoration with Moroccan style mirrors. You can also put dome-shaped frames and metal or jewelry embellishments to make mirror decoration more sophisticated and elegant.
8. The decoration of a Moroccan living room usually includes pretty Moroccan rugs, fabulous wall decor, exquisitely carved wooden furniture, large cushions on the floor, decorative vases and rich interior paint colors.
9. Another great idea for a better Moroccan decoration of your living room is the use of separate rugs with abstract and geometric patterns.
10. If you are drawn to golden yellow undertones, you can pair them with silver and purple color shades to add a mysterious touch to your home decor.