Industrial wooden chairs: the secrets for an authentic decoration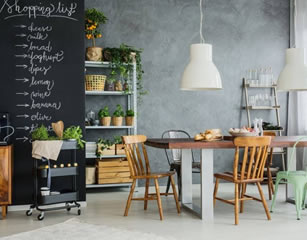 The choice of chairs deserves a long reflection when designing an industrial decoration. In addition to playing their main roles, the chairs must be in perfect harmony with the elements that make up an industrial style. More original and daring, compared to office chairs, industrial chairs are available in several shapes and materials. If the metal chairs are appropriate for an industrial decoration, the industrial wooden chairs also find their accounts. Do you doubt it? Let's take stock of the advantages offered by wooden chairs in an industrial style!
A chair with an authentic style
The industrial wooden chair is an unusual piece of furniture, enhancing the charm of a house. Formerly reserved for traditional houses, industrial wooden chairs are inviting themselves into a factory-style house. Indeed, they are reconditioned and customized to adapt perfectly to the industrial look of a house. Its refined design and very elaborate shape make it an authentic chair, ideal for restoring the style of lofts at home. Moreover, the industrial chair re-employs the fashion of the time, while emphasizing simplicity and comfort.
A durable and robust chair
Unlike the disposable and fragile chairs sold in clusters in recent years, the industrial wooden chair is famous for its sturdiness. But, why are industrial chairs so sturdy? Let's start from the beginning! Industrial chairs were intended for factory work. Hence the need to have great solidity, to make them sustainable over time. Moreover, this is where the alloy of two noble materials was born: metal and wood. Therefore, industrial chairs have the advantage of having a great longevity, surpassing other types of furniture. Looking for long-lasting and durable furniture? Need decorative objects to keep from generation to generation? The best is to invest in the purchase of industrial wooden chairs.
A comfortable chair with an elegant style
The elegant side of an industrial wooden chair has already proven its worth! Moreover, in addition to being elegant, they are also comfortable and simple. The atmosphere created by these unusual furniture will take guests and the whole family to a cozy place, where conviviality and happiness will be the watchwords.
But, to design an authentic decoration, it is necessary to rely on the use and the alloys of materials and colors. We can perfectly combine warm colors with the natural side of wood, to design a raw and original decoration.
A vintage chair for an original decoration
The originality of industrial wooden chairs is its charm. Indeed, with its aged and a little rusty appearance, an authentic decoration will be waiting for you at home. For this, we can perfectly well reconstitute the atmosphere of old factories at home by betting on solid wood. In addition, thanks to its vintage side, the industrial wooden chair also brings a unique character to a house.