Home staging: to revamp your interior at lower costs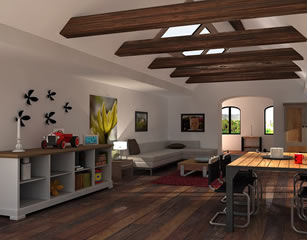 Interior redevelopment work is often essential to refresh the interior of a house and make it more pleasant to live in. However, the expense for materials and decor seems to be very expensive at times. But with home staging, enhancing the interior with minimal expense is possible. But what is this concept really all about?
What is home staging?
Home staging is a way of highlighting the strengths of a property put up for sale. In the beginning, this concept was a way of valuing and attracting potential customers for an unsaleable property during the real estate crisis of 1972.
On the other hand, this concept is currently more and more popular, especially since home staging has been very successful thanks to television broadcasts in the United States. Indeed, whether it is a house for sale or only to make the house more pleasant to live in and pleasant by redeveloping it, home staging is very effective.
This concept consists in revaluing and revamping its interior without exceeding in the expenses. In the case of a house for sale, home staging is a way of attracting more buyers and this at a cost that does not even exceed 4% of the sale price. Home staging can be done by yourself, but it is also possible to use a home stager.
The principle of home staging: details!
For a property for sale, it is especially important to insist on depersonalization. The decor should be as neutral as possible and the owner's personal touches should not be seen too much by the buyer during the visit. Thus, he is already seeing how to arrange and personalize spaces.
The principle of home staging is to avoid major works to minimize expenses and especially to focus on:
Sorting and tidying up: getting rid of what is unnecessary.
Cleaning: cleaning every nook and cranny is essential to make the house more welcoming.
Depersonalization: bet on a neutral decoration, but at the same time warm and welcoming to make the buyer want to stay there.
A makeover of old furniture would be especially a good idea to enhance it.
Carrying out small repairs: it is above all the ideal time to carry out small jobs that have often been neglected. By adding a little coat of paint, the result would only be perfect.
Harmonization: this is very important, it makes the house more pleasant to live in. A few touches of color with the right furniture for the room would be ideal. However, for the valuation of the space one should not put too much furniture, it is enough only essentials.